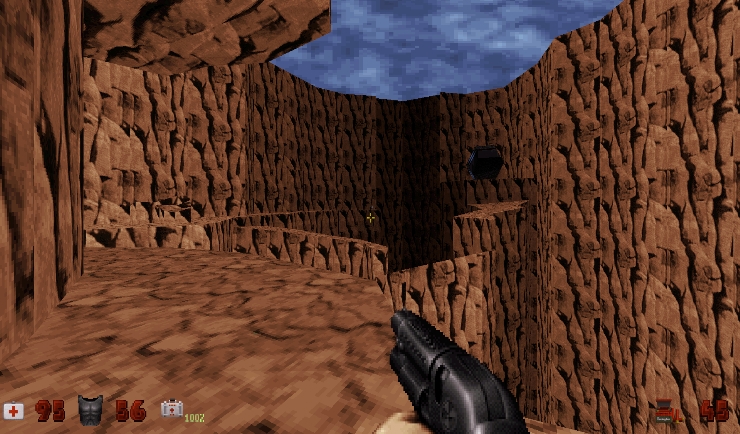 Author: Chris Allcock
Release Date: June 22 1999
Story: The barren desert planet of AR-38 is… quite simply, a hell-hole. With few native life forms and no civilization, it was the ideal site for an alien base. Duke decides to scout the base in a shuttle – but hasn't reckoned on their defense systems. He's shot down and his shuttle smashes into a cliff and crashes in a remote gully. OBJECTIVES: Destroy the alien reactor core, and find an alternative method for leaving the planet.
* Play Information *
Single Player : Yes
DukeMatch 2-8 Player : Yes
Cooperative 2-8 Player : No
Difficulty Settings : Not Implemented
Plutonium Pak Required : No
New Art: No
New Sounds: No
New Music: No
New .CONs: No
Demos Replaced: No

Other Maps by this Author
Turf wars on 13th Street
Author:(Team M:Impossible) Blackjack, Chris Alcock & Maarten Pinxten Release Date: March 17 2001 Story: Turfwarz takes place a deserted, anonymous...
HYPER-BOWL-EEEEEEE!
Author: Chris Allcock Release Date: July 20 1998 Story: The 'Hyper-Bowl' bowling alley has been taken over by aliens! Get...
Descent into Hades
Author: Chris Allcock Release Date: February 10 2000 Story: The Hades Facility is an experimental underground complex utilizing the latest...