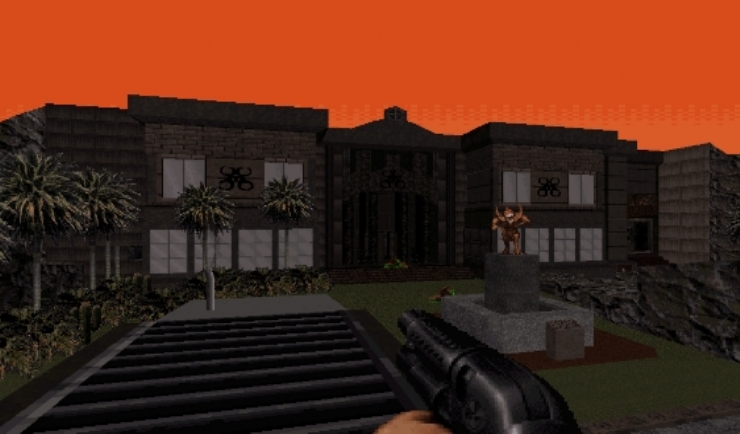 Author:  Kevin "Kef_Nukem" Cools
Release Date: August 31 2003
Story: You are sitting in your little boat to enjoy the water and the wind in your hair. Sounds look a good vacation doesn't it. Then you suddenly see an island. Looks like you have sailing around in the same direction for too long. You stop your boat, take a look at your map/ guide in order to find it, to conclude that the used to be a great spot for tourists but that it got quiet around the island after a strange accident a few years ago. You decide to check it out since the villa on the picture in the tourist guide looked really nice.
There it was, the big villa. It looked even better than on the picture! You could hardly imagine this wasn't a spot full of tourists who would walk around on the beach, have dinner in the restaurant and then go back at night again in a nice cruise ship.
You put your boat on the island while suddenly you see a few people walking on the rocks. As you start your sentence: – "Hey sir, where's the entrance to the.." – they suddenly pull out a gun. They take you away but before you enter the villa they put a blindfold on your head. Next thing you know is waking up on some cold floor with a carpet with a grass-logo on it, a bench with some creepy guys on it and some stuff on the wall like paintings, a bat etc. You look at your legs and see they are tight together. Hmmm. How are you going to get your freedom back?
* Play Information *
Single Player : Yes
DukeMatch 2-8 Player : Yes
Cooperative 2-8 Player : Yes
Difficulty Settings : Not implemented
Plutonium Pak Required : Yes
New Art : Yes
New Music : No
New Sound Effects : Yes
New .CON Files : No
Demos Replaced : No

Other Maps by this Author