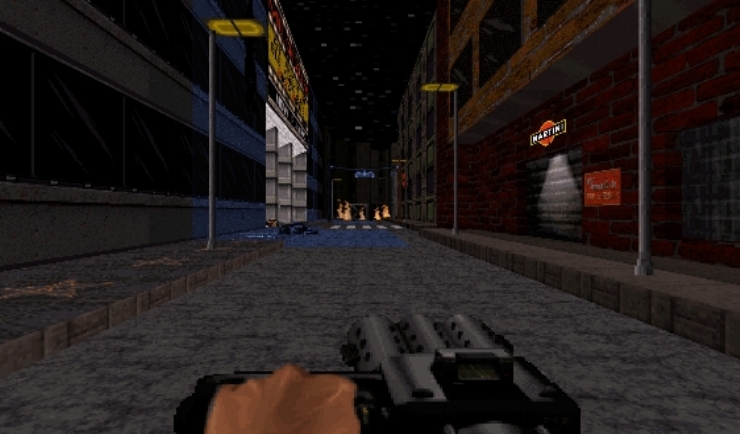 Author: Juan Daniel Alcobre (papamonos)
Release Date: April 13 2004
Story: A city styled map. It's quite a large level so sacrifices had to be made in the architecture which is pretty simplistic both indoors and out, and there are pretty much no cast shadows anywhere. These lackings are made up with a lot of sprite work, palletes, ambient sounds, and logical construction. The layout is wide open with streets, building interiors, and rooftop terraces allowing the player free range to pretty much go anywhere they want with the exception of the few locked structures.
* Play Information *
Single Player : Yes
DukeMatch 2-8 Player : No
Cooperative 2-8 Player : No
Difficulty Settings : Not Implemented
Plutonium Pak Required : Yes
New Art: Yes
New Sounds: No
New Music: No
New .CONs: No
Demos Replaced: No

Other Maps by this Author
Stellar Death
Author: Juan Daniel Alcobre (Papamonos) Release Date: May 21 2004 Story: Tiberius, a touristic cosmic station located between Earth and...
Secret District
Author: Juan Daniel Alcobre (Papamonos) Release Date: December 29 2003 Story: A city block styled map. The majority of the...
Mission: Perejil
Author: Juan Daniel "Papamonos" Alcobre Release Date: August 29 2004 Story: The installation area complex on the marcian satellite "Perejil",...