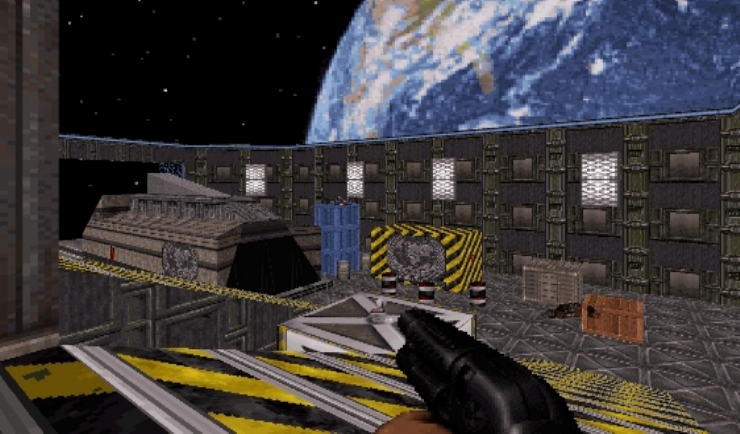 Author: Juan Daniel Alcobre (Papamonos)
Release Date: May 21 2004
Story: Tiberius, a touristic cosmic station located between Earth and Moon, on Spain geography, has been invaded by Papamonia, 10 years since the 186-Blair" Peace document for they and Earth. This invasion produce before the spanish EDF Pressident coming, David Bisbal. The possible cause is that the old profession of this subject was an "abominable" singer, and this is an ancient target of these planet.
Now, EDF in Spain has desactivated all energy of Tiberius cause aliens got his control, and there can realice a devastator nuclear attack to Earth, or attack allied space-ship with "ZP-300" combat ships. They could administer new mass destruction weapons from Papamonia with aero-transport ship "PP-130".
But now, our computer scientist have lightning that Papamonia want send an energy suministrator space-ship "AlQaeda-FCLaden" to Polaris exterior hanger. To our fortune, Duke Nukem has located at Papamonia
cause he has go there at her last mission. We did have contacted he and he go infiltrate in the supposed energy ship.
Duke, your mission, the next: You must infiltrate in Tiberius when the ship be connected to the hanger. When we know that you are inside, we´ll desblocked the energy system. The objective is to destroy the nuclear reactor, to destroy Tiberius. To access here, you must active "ALL" energy system. First, access to "Energy Reactors". These open a door adjacent to a small mercancy hall. This hall is connected with Transport area. The door visualize the parameters "1234" on. This represented the reactor numbers. There should be the red key. Now, access to Command Center, and open Hydroponics Substation to complete the energy sequence.
Now you can access to Reactor Core. Note: Reactor Core, Hydroponics and energy reactors are located at Power Station. When you destroy the reactor go quickly to Command Center to get the yellow
key-card. Be quick, to small mercancy hall, and access to the emergency hanger! There is located an only emergency space-ship! Remember that when you destroy Reactor Core, you will not have a lot of time…
Good Luck!
Josep Piqué, General Secretary of EDF at Spain.
* Play Information *
Single Player : Yes
Cooperative Play: No
DukeMatch Level : No
Difficulty Settings : No
Plutonium PAK Required: Yes
New Art: No
New Sound FX: No
New Music: No
New .CONs: No
Demos Replaced: No

Other Maps by this Author
Las Criaturas de la Noche
Author: Juan Daniel Alcobre (papamonos) Release Date: April 13 2004 Story: A city styled map. It's quite a large level...
Secret District
Author: Juan Daniel Alcobre (Papamonos) Release Date: December 29 2003 Story: A city block styled map. The majority of the...
Mission: Perejil
Author: Juan Daniel "Papamonos" Alcobre Release Date: August 29 2004 Story: The installation area complex on the marcian satellite "Perejil",...