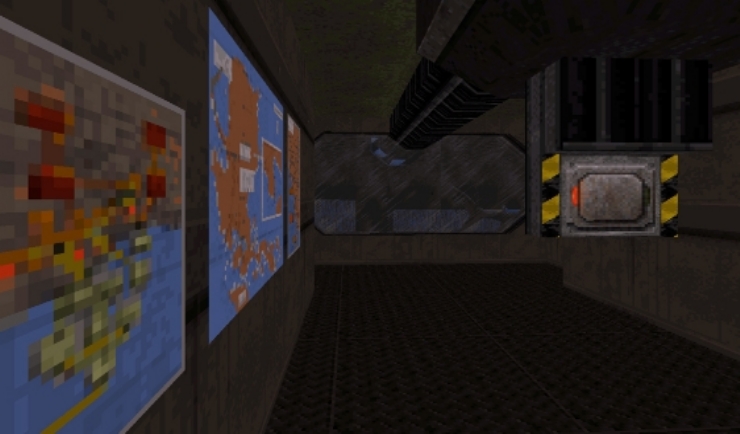 Author: Maarten Pinxten
Release Date: June 20 2000
Story: During the never ending fight against the alien domination, mankind has seen many strange and shocking things. Women being kidnapped and held in cocoons, average day street life being brutally disturbed by the unknown power from outer space… With huge efforts, the Earth Defense Forces (EDF) have been able to stabilize the situation. Now it is time to fight back and stop the invasion.
Duke Nukem, EDF's best agent, has been sent out on a seemingly routine flight above the west of Europe, to search for the source of the European invasion. But while flying above Rotterdam (NL)
something strange happens. The radar screen fades to black, technical equipment refuses to respond and the radio only makes noise. An unknown force, probably a magnetic force field, pulls the plane down. Duke tries to use the eject switch, but the control does not work. The only thing to do now is pray for a soft landing on the roof of some harbor building and look for help.
With some bruses and scratches, Duke Nukem finds himself in a storage building, like there are so many in Europe's biggest main port. If this is a base like all the other's, there will be an internal intercom
system and maybe a radio to the outside world.
The only thing left to do now is to venture through the facility and get some help. The place looks deserted, but maybe there are some employees left, or maybe something else…
— As you can see, this is not a regular level like all the other's. The level is mission based. There are not too many enemies, but there is even less ammo. Use it wisely. You don't have to kill every enemy you encounter, try running or sneaking to avoid contact. Pipebombs and such will only be provided for specific tasks. Don't waste them. When you spill all the ammo and shoot around like an idiot, you CAN finish the level, but it will be a lot more difficult…
* Play Information *
Single Player : Yes
DukeMatch 2-8 Player : No
Cooperative 2-8 Player : No
Difficulty Settings : No
Plutonium Pak Required : Yes
New Art: No
New Sounds: No
New Music: No
New .CONs: No
Demos Replaced: No

Other Maps by this Author